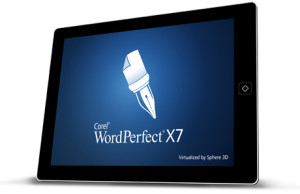 If you are a stalwart like me (stubborn and Luddite might be appropriate descriptive words as well) who hates Microsoft Word and still uses WordPerfect, here's some good news. Corel just released WordPerfect for the iPad (must be second generation or later).
I've never actually had a burning need to edit WordPerfect documents on my iPad; I just pull out my laptop if I'm working remotely on a document. Still, though, I sometimes take only my iPad to, say, a settlement conference, and the circumstance could arise where I would want to be able to edit a document.
Currently this is designated as a trial version, and it is free. Head on over to the APP store if you want to give it a try.