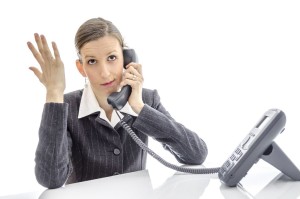 My websites all have contact forms, so that prospective clients can email me a question. The forms require that the prospective client provide an email address and/or a telephone number. How else would I contact them?
So, I received an email from a visitor to one of my websites (let's call her Jane), and I promptly responded.
The next day, I received another email from the website from Jane, asking the same questions again. I responded again, apologizing that she had not received my earlier response.
On day three I received two emails from Jane, and they made clear that Jane was not pleased that I was ignoring her emails. Jane had never provided her telephone number, so I had no means to contact her other than through the email address she was providing each time. I was sure my email was probably ending up in her spam filter for whatever reason, but I responded each time.
Finally Jane called, and she was hopping mad that she had written me so many times and received no response. I explained that I had responded to every one of her emails, and read back her email address.
"Oh, that's a fake email address. I always use that when I fill out contact forms. I don't want to get spammed," she said.