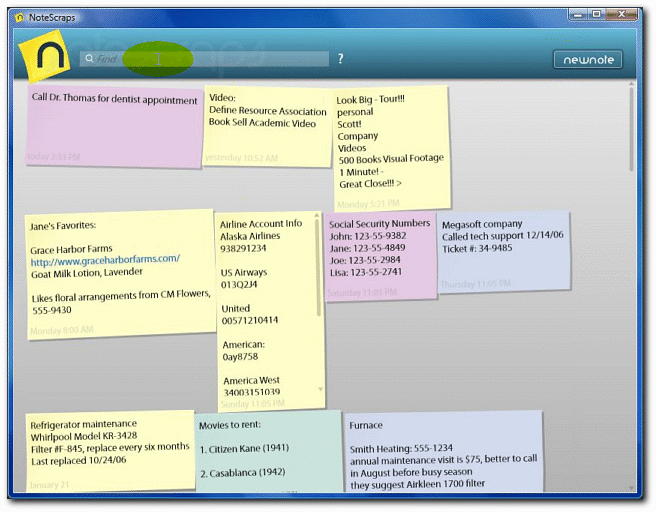 [NOTE: This article that began as a simple software review turned into quite the saga. I've left the entire piecemeal story here for entertainment value, but the bottom line is that this software is now available for FREE (at least for now). Ignore the part that says the software is $20, and read to the end to see how to get if for FREE.]
I can't believe that I first reviewed the program about two years ago, but as I just found myself using it, I decided it deserved an updated review for the benefit of anyone who may not have seen the prior review. When I first published the article, I received a number of emails, mostly from former Tornado Notes users such as myself, thanking me for helping them to find a new, old favorite, as it were.
Right now, are there any sticky notes attached to your computer monitor(s)? Any notes scribbled on legal pads on your desk? If so, you might be a perfect candidate for a simple program called NoteScraps.
Many years ago (geez, I think it might have been in the days of DOS), I used and loved a program called Tornado Notes. The program was like using electronic sticky notes, but with the ability to search them instantly. It was the perfect program for catching information that I might put on a sticky note or, worse, just try to remember. What made Tornado Notes perfect was that it required no effort. Hit the hot-key combination, and up pops a blank note ready for input. Then, when I needed to recall that information, another hot-key combination would pull up all my notes. I would start typing the information I was looking for, and all the notes that did not contain that information would disappear, leaving only the note I was looking for.
Tornado Notes was "upgraded" to a new program that contained far more features, and that was its downfall. The beauty of the program was its total simplicity.
I found a replacement for the old familiar program that I loved so much, called NoteScraps. This program works the same way. I just hit the hot-key combination "WinKey-Alt N" (you can set whatever hot-key combination you prefer) and a new note is created. I type in whatever information I want, and then return to what I was doing. Leaving the note closes it and leaves the program ready for another note.
I use four, 22-inch monitors, and even with that much screen real estate, sometimes running programs get hidden behind other programs. Even the second it would take me to bring up a program to create a note is too inefficient and annoying. With NoteScraps, I just hit the hot-key combination and start typing, without ever looking at the note I am creating. I follow the same process when I am looking for a note, looking over at the notes only when I am finished typing the keywords for the search.
Aside from the benefits you will gain by never letting information fall through the cracks, and having all the information instantly retrievable, the program provides a leap in efficiency for information you routinely use. For example, say I'm on the phone and want to refer a caller to a medical malpractice attorney I know. I keep all contact information in Time Matters, but to find a phone number I have to click on that program, click on the contacts tab, type in enough of the name for a search, hit return, select the name from the contacts that come up, and then find the number on the contact page that pops up for that attorney. And that all assumes I remember the attorney's name.
With NoteScraps, the next time I find myself looking up that number in Time Matters, I create a simple note like "Joe Dokes, medical malpractice attorney, 714-555-1234″. Now when I need to refer a caller to a medical malpractice attorney, I have the information in less than two seconds, even if I draw a blank on the attorney's name. If you enter an email address on a note it is recognized as such and turned into a hyperlink to your email program.
Yes, there are a million sticky note programs, but with most you are still just creating unsearchable sticky notes. And yes, there are programs like OneNote (which you may already own) with lots of bells and whistles, but those are far too complex for this simple task.
You can download NoteScraps at www.notescraps.com. It's free to try and $20 to buy [it's FREE now; see below]. Oddly, there are only two versions shown, for XP and Vista, leading me to believe the software may no longer be supported, but I did receive a survey request from the company after I purchased it. Don't be put off though, because I installed the Vista version on my Windows 7 machine, and it worked just fine (although I did have to change the hot-key sequence because the default kept bringing up some other program). If it is true that the software is not being supported, that might be a good thing, so there won't be an effort to add more features and in doing so take away the simplicity.
[UPDATE] The program still works! I wanted to emphasize that right up front so you wouldn't scan the next couple of sentences and reach the wrong conclusion.
I received a note from a friendly reader, informing me that he could not get the program to install, and telling me to enjoy the program on my current computer because it may be the last. I took him at his word, and was keeping my eyes open for a replacement so I could report back to you. Then circumstances required me to install a new computer, running Windows 10, and I thought I'd give Notescraps a try.
It installed and works perfectly, which is especially good news because I couldn't find anything else that was comparable. I installed a program called AllMyNotes and played with it for awhile, and it is a perfectly fine program, but it lacked the simplicity (and hot-key capability) of Notescraps. Please note that I did not test the ability to purchase Notescraps, because I already had my license number. If you encounter any problems with this program, please let me know.
And by the way, I didn't need to change the hot-key sequence this time, but I did so anyway just to make it simple. "WinKey-N creates a new note, and "WinKey-F" searches all the notes. (WinKey is the key with the Windows logo on it, in case you've never had occasion to use that key before.) Notescraps is so no-frills, that it doesn't even have a settings button as such. To change the hot-key sequence, from within the program, click on the question mark just to the right of the search bar (you can see it in the picture I have provided). That opens up the very short help file, and at the bottom of that screen you'll see the settings for the hot-keys.
[UPDATE] The saga continues . . .
Reader Randy Padawer went above and beyond the call of duty and called me to explain the issue with Notescraps. As I indicated above might be the case, the program installs and works fine (in trial mode), but the issue comes when you try to pay for it in order to get your registration code. That link is dead. The program still works for me because I have a registration code I can use for each installation.
Randy really liked the program, and contacted the company that currently owns the software to see what could be done. It took a few transfers before he found someone who knew that the company owned Notescraps and that the download site was still up, but he was told that the software was no longer supported. He was kind enough to send me the contact information. I'm going to see if anything can be done to make this fine software available to my readers. I'll keep you posted.
[UPDATE] Our gift to you, a FREE copy of Notescraps . . .
With the contact information provided by Randy Padawer, I emailed the software company to see if I could offer my own license code to my readers, so they could install and use this now unsupported software. The very nice people who own Notescraps got back to me almost immediately, and provided a user name and license code that will unlock the software, and authorized me to provide that information to you.
Download the software at the link provided above (I downloaded the Vista version and it works fine on my Windows 7 and Windows 10 machines), and after installing it, you'll see "click here to buy" link at the bottom of the program. IGNORE THAT LINK, but note that right below it there is a smaller hyperlink that says "click here if you already have a license" or words to that effect.
Click on that link, and enter the following information:
NAME:  NoteScraps Free License
CODE:  5225532D3C4E22C18825FC66BF83B126
Enjoy! Let me know how it works for you.
[YET ANOTHER UPDATE:]
Not being an Apple user, I can't always provide information about how programs I recommend work on the Mac. Again Randy Padawer stepped up and provided the following information:
1) The program does work well on a Macintosh using the Parallels program (which runs Windows in emulation). It works under Windows XP, Vista, 7, 8, and 10 on the Macintosh using Parallels. I do think it would run under a competing virtualization platform called "VMWare Fusion" on the Mac as well, however I've not tested that.
2) It also works on a Macintosh using the inexpensive program called CrossOver (published by Codeweavers.com). That particular program makes Windows programs work on a Mac within Mac-style windows, etc., and without having to purchase a Windows license (as with Parallels or VMWare Fusion). However installing NoteScraps with CrossOver takes a few steps, which I've published to the CrossOver forum here.
Thanks, Aaron, for joining me in making NoteScraps available. It's just too nifty a program to be frozen in amber forever.