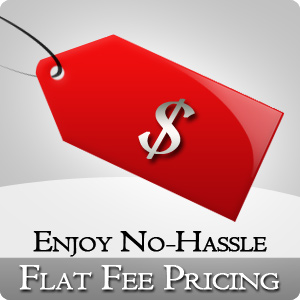 Flat fee arrangements are amazingly liberating.
Most of my fellow litigators won't take a case on a flat fee, either because they are concerned that they will grossly underestimate the time the case is going to take and end up with an effective hourly rate of $25, or simply because they think they'll make more on a straight hourly basis.
I acknolwedge that some cases just do not lend themselves to a flat fee because of the unknown factors, but when you have a case with a reasonably predictable time factor, a flat fee is a fantastic way to go, not because it earns you more (although it can), but because it allows you to do more.
This may be counterintuitive to some, and probably blaphemous to attorneys that are only in it for the money, but I'm in it to win and a flat fee gives me greater freedom to do what I need to do to win.
Say you have a case that is crying out for a demurrer. On a straight hourly arrangement, your discussion with the client goes something like this:
You:  "I really think we should bring a demurrer. The third cause of action for breach of contract fails to allege performance, and here they really can't honestly allege performance, so I think that will get rid of that cause of action."
Client:  "So if you bring this motion the case is over?"
You:  "No, it will just get rid of that one cause of action if we prevail."
Client:  "How much will the motion cost?"
You:  "With the motion, the reply and going to court, I can probably do it all in ten hours, so $4,500."
Client: "So I pay you $4,500 and the motion may not work and even if it does it doesn't end the action it just gets rid of one cause of action?"
And what the client is thinking is: "Damn attorneys, he's just trying to run up the bill."
With a flat fee, all those conversations are eliminated. If I think a demurrer is needed, I bring it. If I think more discovery is needed, I propound it.
And this isn't pure altruism. Yes, I do this to win, but being free to do everything I want to do on a case may allow me to prevail on the action much more quickly, making the flat fee a winning bet for me financially.
A few tips for flat fees: Continue reading →