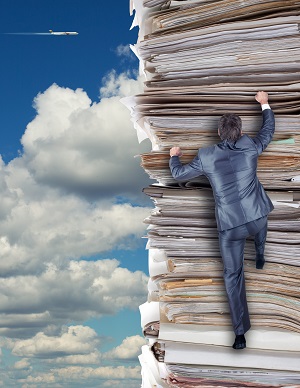 The planets must be aligned or misaligned as the case may be, because I've been flooded with callers who are dissatisfied with their current attorneys, and want to fire them to hire me.
I get a lot of these calls, and reviewing the cases to decide if I want them gives me great insight into the manner in which other attorneys handle cases (and the terrible ways that some organize their case files). I have just reviewed my fourth complaint of the day, and encountered one of my pet peeves. I had to take a moment to vent.
All of the complaints were guilty of the offense, but one particular complaint, with attachments, is 125 pages long. The attorney has seriously over-pleaded the case, and that is a topic for another day, but he has also attached 12 exhibits.
It's actually not proper to attach some exhibits to complaints, and it is often a really bad idea to do so. In the case I was reviewing, the attorney had attached the contract, and I would venture to say that most attorneys would do the same.
Think before you attach! Even in a breach of contract action, you don't have to attach the contract (at least not here in California). The problem with doing so is that anything you attach to a complaint becomes an allegation. The defendant is then free to cite to any provision in that contract to support a demurrer or other motion. Continue reading →