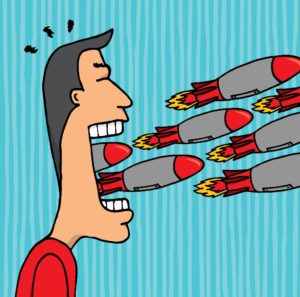 I'm at the drive through teller at my bank yesterday, to cash a small check. I sign the back of the check and send it up the tube with my driver's license and ATM card, a process I have followed dozens of times. But this teller is clueless. He asks if I have an account there, then asks for more identifying information, then he asks for the name of my business (even though the check is made out to me and has nothing to do with the business).
I remain calm, even when he comes back and says he cannot cash the check because they can't find my account. I calmly ask, "You can't get my account number from the ATM card?" He politely responds, "We can, but you only sent your license and a credit card." I look down, and realize I had sent the wrong card. He had not been clueless at all, and was actually being quite accommodating trying to find my account information with what I had provided.
So what is the point of this quaint story? Imagine if when he had told me that he could not cash the check, that I had torn into him, calling him an incompetent idiot for being unable to look up my account information from my ATM card like every teller before him had been able to do? Then my diatribe would have all fallen back on me, and I would have been the idiot; a lesson I have learned from other times that I did not hold my tongue.
Realize that as an attorney, you can be wrong, no matter how convinced you are of your position, and that a rant seldom serves any purpose and can come back to bite you. Bringing us to today's attorney not to emulate.
As reported by ABA Journal, Above the Law, CBS News, PatentlyO, and even a blog about whiskey, a patent attorney apparently had had enough of patent examiners denying his applications. I don't do patent law, but in my never to be humble opinion his client's "Telescoping Tripod Sprinkler Cart" was not eligible for a patent. Examiner Alexander Valvis agreed with me and rejected the application. The patent attorney responded by FILING the following rant:
REMARKS: Are you drunk? No, seriously … are you drinking scotch and whiskey with a side of crack cocaine while you "examine" patent applications? (Heavy emphasis on the quotes.) Do you just mail merge rejection letters from your home? Is that what taxpayers are getting in exchange for your services? Have you even read the patent application? I'm curious. Because you either haven't read the patent application or are … (I don't want to say the "R" word) "Special." Continue reading →