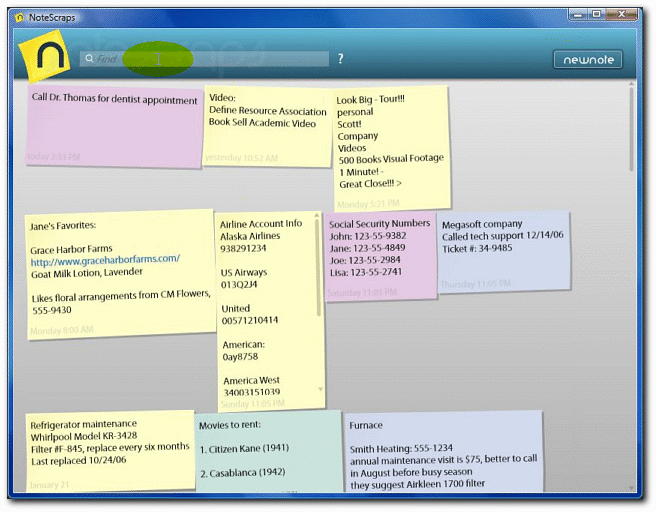 [NOTE: This article that began as a simple software review turned into quite the saga. I've left the entire piecemeal story here for entertainment value, but the bottom line is that this software is now available for FREE (at least for now). Ignore the part that says the software is $20, and read to the end to see how to get if for FREE.]
I can't believe that I first reviewed the program about two years ago, but as I just found myself using it, I decided it deserved an updated review for the benefit of anyone who may not have seen the prior review. When I first published the article, I received a number of emails, mostly from former Tornado Notes users such as myself, thanking me for helping them to find a new, old favorite, as it were.
Right now, are there any sticky notes attached to your computer monitor(s)? Any notes scribbled on legal pads on your desk? If so, you might be a perfect candidate for a simple program called NoteScraps.
Many years ago (geez, I think it might have been in the days of DOS), I used and loved a program called Tornado Notes. The program was like using electronic sticky notes, but with the ability to search them instantly. It was the perfect program for catching information that I might put on a sticky note or, worse, just try to remember. What made Tornado Notes perfect was that it required no effort. Hit the hot-key combination, and up pops a blank note ready for input. Then, when I needed to recall that information, another hot-key combination would pull up all my notes. I would start typing the information I was looking for, and all the notes that did not contain that information would disappear, leaving only the note I was looking for.
Tornado Notes was "upgraded" to a new program that contained far more features, and that was its downfall. The beauty of the program was its total simplicity.
I found a replacement for the old familiar program that I loved so much, called NoteScraps. Continue reading →